About
So as not to overwhelm you with too much reading, I've provided several separate topics. Please select the item(s) that interest you.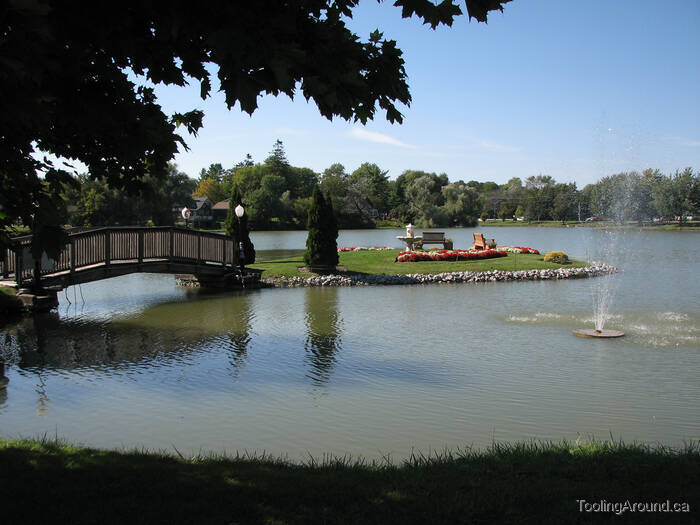 My name is David Underwood and I'm a retired guy who lives in a small village in southern Ontario, Canada. The photo shows our mill pond.
This site is about one of my hobbies and is my way of sharing some of my experiences with others with similar interests.
A long time ago, one of my friends and I were talking about mutual friends who enjoy spending time in their shops. He suggested that there are basically two types of people: those who like to complete projects and those who are more interested in the tools. There's some truth in what he said and I have to say that I'm a tool guy. I generally view a project as an opportunity to use tools. Most people think that tools are the means to complete a project – much too sensible, they are. In my case, tools often are the project. This interest extends to adapting tools and sometimes making new ones.
My first attempt to learn to do machining took place in June of 1985, with the purchase of a Toyo ML-210 lathe. Using it was not a rewarding experience. I struggled to achieve a smooth finish. My thread cutting attempts were indifferent – when they weren't scary. Boring was a mystery. Tool grinding was a mystery. The books I was able to purchase were mostly over my head. Other hobbyists were almost impossible to find. Predictably, I lost interest and my Toyo lathe languished in a corner of my shop.
About two decades later, with retirement, more time was available and my interest revived. And something else had happened since my earlier attempts, something called the World Wide Web. I was able to explore the work of many very talented people, from John Bentley to Dean Williams to Jan Ridders to Tatjana van Vaark. For Taig equipment, Nick Carter's web site is wonderful. Nick has accepted and posted contributions from Taig users all over the world. It's all a great source of inspiration. I signed up for a few Yahoo discussion forums and settled in as an interested observer. (Lurker sounds derogatory, doesn't it?) As I gained experience, my confidence grew and I was able to participate in an occasional forum discussion.
This time around, I opted for a Taig lathe and, later, a Taig mill. These machines seem designed for someone who likes to adapt them to suit his purposes. This suited me just fine. (See the tool guy comment, above.) For months, every time I wanted to do something with the lathe or the mill, I realized that I needed some attachment or other, first. However, to make that attachment, I needed some other device and so on. It seemed that I was doing this two-steps-back-for-one-step-forward dance for months. It was a great day when I was able to just go ahead and do something. All this activity might drive some people to distraction, but I enjoyed it thoroughly. Every thing I made was an opportunity to learn something new.
And the Toyo lathe? A little cleaning and adjustment and it's doing just fine, thank you. New parts and attachments are no longer available, but those I have work well and as I may have mentioned, I have no reservations about making new fittings. I especially appreciate its thread-cutting capabilities. (Note to self: make some more change gears. I always wanted to try gear-cutting.) Certainly something has changed, as the Toyo lathe is now a delight to use. Since the lathe is the same, I guess it must be me that has changed.
Here's a list of the cookies used on this site. It's a short list.
LastFetchTS

The timestamp of the last page fetch. This is used to decide if site changes have occurred since the last time you displayed a web page. If the cookie isn't present, you're assumed to be a first-time visitor. The cookie expires after one year.

UpdatesNoteTTL

A counter to limit the number of times you are presented with the Site Updates notification of changes to the website. The cookie expires after one day.
Tracking refers to the use of cookies to leave a trail of electronic breadcrumbs that can be followed to see what sites you visit. If you're curious, you can start your reading here: Website visitor tracking article on Wikipedia. The Tooling Around site does no such tracking.
Tracking is often used by third-party advertising sites, in an attempt to show you advertisements that will interest you (by analyzing the web sites you visit). There is no advertising on the Tooling Around site. It earns no income and is paid for by me as a contribution to our community.
Web server logs typically include some basic information about the requested web page, such as the date and time when the page was served to the browser, information about the browser (i.e. user agent string), the IP address to which the page was sent and so on. If you're curious about server logs, here's a place to start your reading: Server Log article on Wikipedia.
If you use the Contact facility to send me e-mail, I will, of course, receive the information in your message and also your e-mail address. But you knew that, didn't you?
The Tooling Around website and associated e-mail server are both located in Canada.
Unlike a blog, the Tooling Around site is more or less static. That's not to say that it never changes, just that the changes are relatively infrequent as updates are made to existing pages and new pages are added. As you may have noticed, this site's pages are organized in a hierarchy and it follows that a new page will appear somewhere in the existing hierarchy. So, if you're making a return visit, how do you know what's changed since the last time you were here? It isn't practical or desirable to browse through the site, looking for something you haven't seen before.
My intention is to direct you to the Update History page if an update has occurred since your last visit to the web site. Of course, you can choose to visit that page any time you please, by clicking on the Updates link at the top of the page.
The first time you view any web page, following a change to the Update History page, a notice will appear at the top of the page you're viewing, telling you that a change has been made. If you don't respond by visiting the Update History page, that notice will continue to be presented as you browse the site, until it's been shown three times, after which it will no longer appear, pending another update to the Site History page.
The update history that you see does not include the activity that goes on behind the scenes, such as updating of stale links to external web sites, minor clarification of some text, stylistic changes or even a move to a new web site hosting facility. I can't imagine that you would care about any of that sort of thing.
This website is mostly a collection of photographs that are accompanied by explanatory text. I suppose it started by me making photos to remind myself how I did one thing or another. So, they aren't art.
Nevertheless, the photos are mine, meaning that they are protected by copyright, as implied by the watermark in the bottom right-hand corner. Please respect the ownership and leave the watermark intact, if you use the photo in any way. I don't mind if you copy a photo for your own use, but ask that you contact me, should you want to use it for any commercial purpose.
Here and there on this website, you'll find download links for PDF files containing plans. Please understand that I offer these because they may help you with your own projects. However, I generally draw plans to help me think through what I want to build and the plans aren't necessarily enough to give you complete details of what's required. My hobby is more about making things and less about preparing professional plans. I guess you could say that they're worth what you paid for them.
This site is about what I have done and is a way to share my experience with you, mistakes and all. It is not about how you should do your work. Please use your own judgment and common sense as you work in your shop.
That disclaimer aside, if you notice something that troubles you, confuses you or somehow needs clarification, please do use the Contact button that appears at the bottom of each web page. I'll be happy to hear from you and will attempt to respond to your concerns.
If you like to use your keyboard instead of a pointing device, you'll be pleased to know that I have attempted to support this. Generally speaking, you can use the keyboard as you would on any other page.
Many links are available at the top of each page and it would be tedious to Tab though them, trying to get to the one you want. So, most of those links do not respond to the Tab key. Instead, you can use arrow keys to move around among lower-level links. Of course, the Tab key can be used to move on from these links or indeed from any other location on a web page. While exploring lower-level links, you can use the Escape key to back out from where you are.
If you start using the Tab key from the very top of a Tooling Around page, you will see a Skip to page content. link that you can use to skip right past the links at the top of the page. Just press the Enter key while the link is visible.
If you are viewing accordion content, such as this text that you are now reading under that accordion heading, you can press the Escape key to close the accordion.
It matters to me that you have a good experience exploring this website. Part of that experience is that it be accessible to you, if you have special needs. Unfortunately, I am no expert on how to do this, but I have attempted to help.
If you are colour blind, please know that I have attempted to provide sufficient colour contrast and use colours to highlight links, distinguishing links that you have previously visited from those not yet visited. When you hover your pointing device over a link, its colour will change. If you have difficulty distinguishing these differences or have any other concerns about my colour choices compromising your enjoyment of the site, please contact me via the link at the bottom of this page.
If you use a keyboard for site navigation, rather than a pointing device, please know that I have attempted to make this practicable. If you encounter difficulties in this regard, please contact me via the link at the bottom of this page.
If you use a screen reader, you've probably already discovered that this website is not particularly amenable to their use. Among other things, proper screen reader support requires descriptions on all images and this website has many, many images, none of which currently have descriptions. For this, I apologize. If you would like to start an e-mail discussion about this, please contact me via the link at the bottom of this page.
There are people who are concerned about websites that run JavaScript code. Tooling Around is one of those sites. If you share concern, all I can do is tell you that the site will not operate properly if you disallow JavaScript and try to reassure you that nothing nefarious is going on.