Toyo ML210 Lathe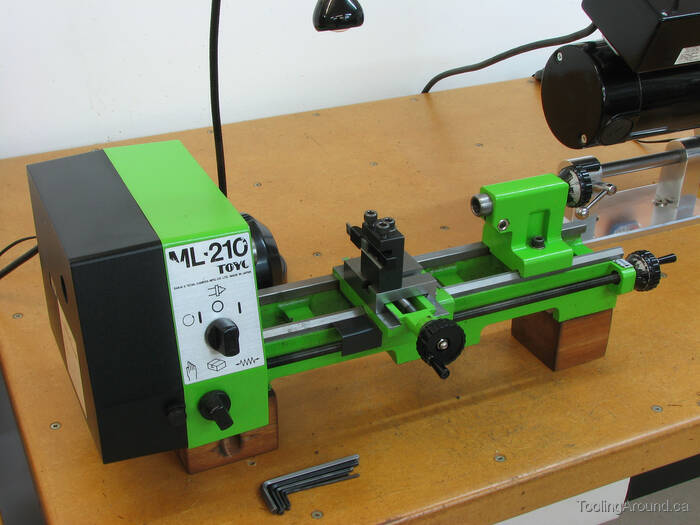 My Toyo lathe is the model ML-210, little brother to the ML-360. The "210" in the model name indicates the distance between centres (in millimetres). So, it's a little guy. Manufactured in Japan by Sakai Special Camera company, it has many similarities to the Unimat 3. Proxxon used to make the Proxxon PD 210, which appeared to be identical to the Toyo ML-210, except for the labels and paint colours. Probably the nearest equivalent today is the Proxxon PD 250/E, manufactured in Germany.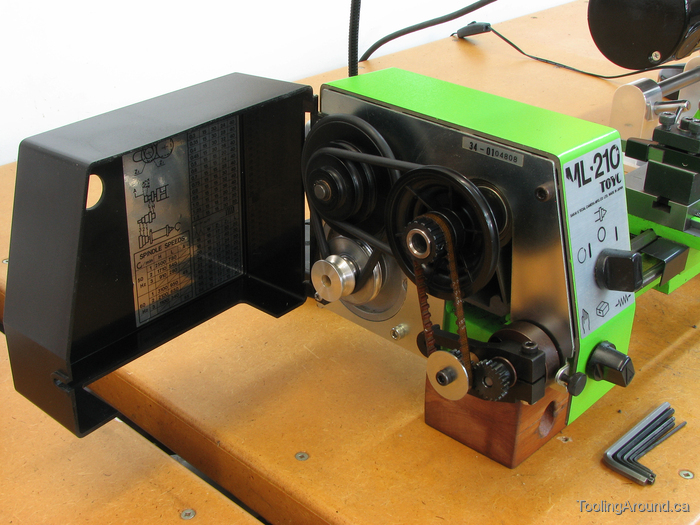 As you can see, this is a screw-cutting lathe. My set of change wheels is incomplete, but I can cut 9 different thread pitches from 0.5–1.5 mm.
Toyo ML-210 Specifications
Centre height
52 mm
Distance between centres
210 mm
Swing over carriage
58 mm ø
Swing over bed
104 mm ø
Main spindle through hole
10.5 mm ø
Main spindle speed
280, 540, 780, 910, 1710, 2500 rpm (50Hz)
340, 650, 950, 1100, 2100, 3100 rpm (60Hz)
Main spindle taper
MT #1
Tail spindle travel
30 mm
Tail spindle diameter
18 mm
Tail spindle taper
MT #1
Carriage cross travel
60 mm
Carriage longitudinal travel
Whole range between centres
Bed
Cast iron with hardened and ground ways
Motor
Reversible condenser motor, single phase
100, 120, 220 & 240V
Input 140W, Output 60W
2400 rpm (50Hz)
3000 rpm (60Hz)
Dimensions
490 × 256 × 150 mm
Drive belt dimensions
5 mm ø, 270 mm and 244 mm long.
The more experience I've gained, the more I like this lathe. With a bit of careful adjustment, it's as precise and pleasant to use as anything I need. That's another way of saying that the limiting factor in the work I do is my skill, not the lathe's capabilities.
There are two things that could be improved. First, drive is via round belts, similar to O-rings. Over time, these tend to stretch. I think this problem could be addressed by using equivalent belts of a different material. When the current ones show signs of stretching, I may search for better ones. Second, the handwheels are zero-resettable, which is great, but they're made of black plastic, which is not so great. The problem is that the numbers and gradations are simply raised markings, leaving you to distinguish them from the background by looking for shadows that may or may not help define the edges. You can imagine how well that works: shadows cast by black markings against a black background. A project on my to-do list is to make new handwheels.
Additional Information About the Toyo lathe
Click on a photo to view the associated topic.