By using this site, you agree to the use of cookies, as described on the
About
page. That page also describes tracking and your personal information. You can dismiss this notice by acknowledging that you've read it.
Update History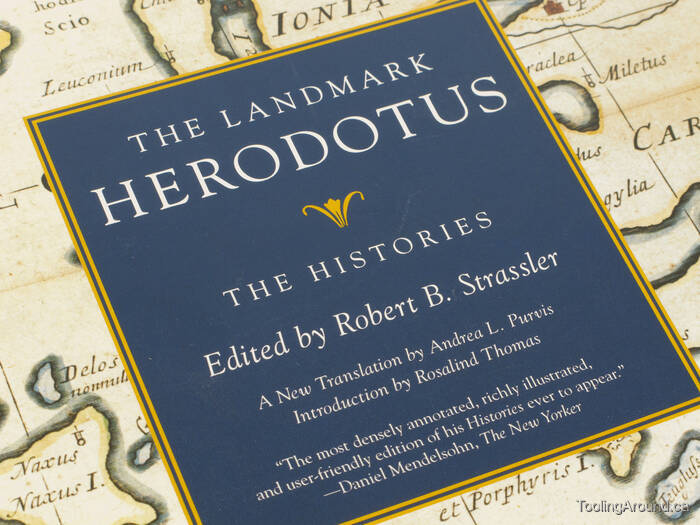 This is a place to see a history of changes to the site, at least relatively recent changes. This isn't a complete update history and, honestly, why would you care about ancient history?
Regarding the image at the top of this page, it's there just for fun and no disrespect to Herodotus is intended. In fact, that book's not a bad place to go for a taste of ancient history. Yes, some of us do enjoy reading old stories.
Provided a PDF drawing of the Toyo ML-210 thread cutting attachment.
Corrected some typos and correctly stated that the bearing block is made of steel.
Corrected a typo to describe three columns added to the Inch Threads table, not two.
Described a height-adjustment screw for the motor mount on my Taig mill.
Removed a defunct link to Neil Butterfield's web site.
Added a column to the "Inch Threads" table, showing the pitch error when cutting inch threads on a Toyo ML-210 lathe.
Added more information to the table of Toyo ML-210 specifications, now including drive belt dimensions.
A new page, describing the Toyo ML-210 thread cutting attachment.
Clarified the attachment of the lumber rack to the french cleat and added more measurements.
The text describing the first photo in the Controller Mount section was a bit vague about a better way to accomplish squaring the end of the workpiece and has now been clarified.

14 Sep 2018

Added this new Update History page. It's a page that you can check to see if there are any changes since your last visit. When this page changes, you'll see a notice to that effect upon visiting the site. Hopefully this will be an easy way to check in from time to time, should that interest you.

14 Sep 2018

A notice will now appear once a year, reminding you that this site uses cookies and directing you to information about those cookies.
I added quite a lot of information to the "About" page.
Modifying a cabinet to store DVD and Blu-ray recordings, with in-shelf LED lighting.
Hanging two pendant lamps over a dining room table, from one electrical box.
A pair of picture hangers outdoor use.
A simple device for aligning a lathe tailstock.
How to make Taig lathe cup centres
Another shop furniture update, describing the lathe and mill workbenches
A shop furniture update, describing my shop cabinets
Added a link to a PDF file containing a drawing of the Sherline motor mounting plate for the Taig mill.
A new page, describing a squirrel baffle.
A new page, describing a platform bird feeder.
A new page, describing an adjustable chair's height stop.
A new page, describing a hummingbird feeder perch.
A new page, describing an SD card extractor.
A new set of pages, describing my metal cutting bandsaw.
A new page, describing my machinery dolly.
A new page describing one way to store raw metal stock.
Added a picture and explanation about the DIN loudspeaker plugs used on more recent Ikea LED lights.
A new page, explaining how to use a pin wrench to remove the crosslide dial bearing block on a Taig lathe.

08 Nov 2015

I removed the Google Analytics code from the site. It's not clear to me that it has enough value on a non-commercial site.
Added a downloadable drawing of the Sherline rotary table vertical mount.
Added a new page, describing a dashcam bracket.
Added a new page, presenting a summary of small projects.
Added a new page, describing the use of a french cleat.
Added a new web page, containing links to other interesting sites.
Added a new web page, describing a letter/number stamp guide for the Taig mill.
Added a new web page, about cutting a pinion for a Pequegnat clock, my first experience cutting a gear.

16 Jan 2012

The first version of the web site was uploaded to a public server, with 27 web pages. After this, I made several changes as I tracked down bugs and inconsistencies, until 24 Jan 2012.
Reviewing this history and comparing it to the much larger version that I have in my site journal, I'm struck by how much work was done and how many changes were made, that are not reflected on the history you see here. I suppose that it's the web site maintenance equivalent of showing someone something that you made in the shop and having the other person say that they don't understand why it took so long to make. And you and I know that their eyes will quickly glaze over, if we explain what was involved in making the thing.